 WHAT IS HYPERHIDROSIS?
Hyperhidrosis is a condition whereby an individual suffers from overactive sweat glands, and produces and excessive amount of sweat. Excessive sweating happens when a person sweats more than is necessary. Sweating cools the body, which prevents us from overheating. People who have hyperhidrosis, however, sweat when the body does not need cooling. Individuals who suffer from hyperhidrosis sweat from one or two areas of the body. Most often, they sweat from their palms, feet, underarms, or head. While the rest of the body remains dry.
WHAT IS BOTOX FOR HYPERHIDROSIS? HOW DOES IT WORK?
Botox is generally used as a dermal injectable to eliminate facial expression wrinkles. It temporarily paralyzes muscles so it can also treat certain muscle conditions, however in this case it is used to stop hyperactive sweating, or hyperhidrosis.
To treat severe underarm sweating, Botox works by blocking the secretion of the chemical that activates sweat glands. During the procedure, we inject units of Botox into each armpit. The more units injected, the longer the drying effects tend to last.
This process can be repeated at most other sweat glands as well.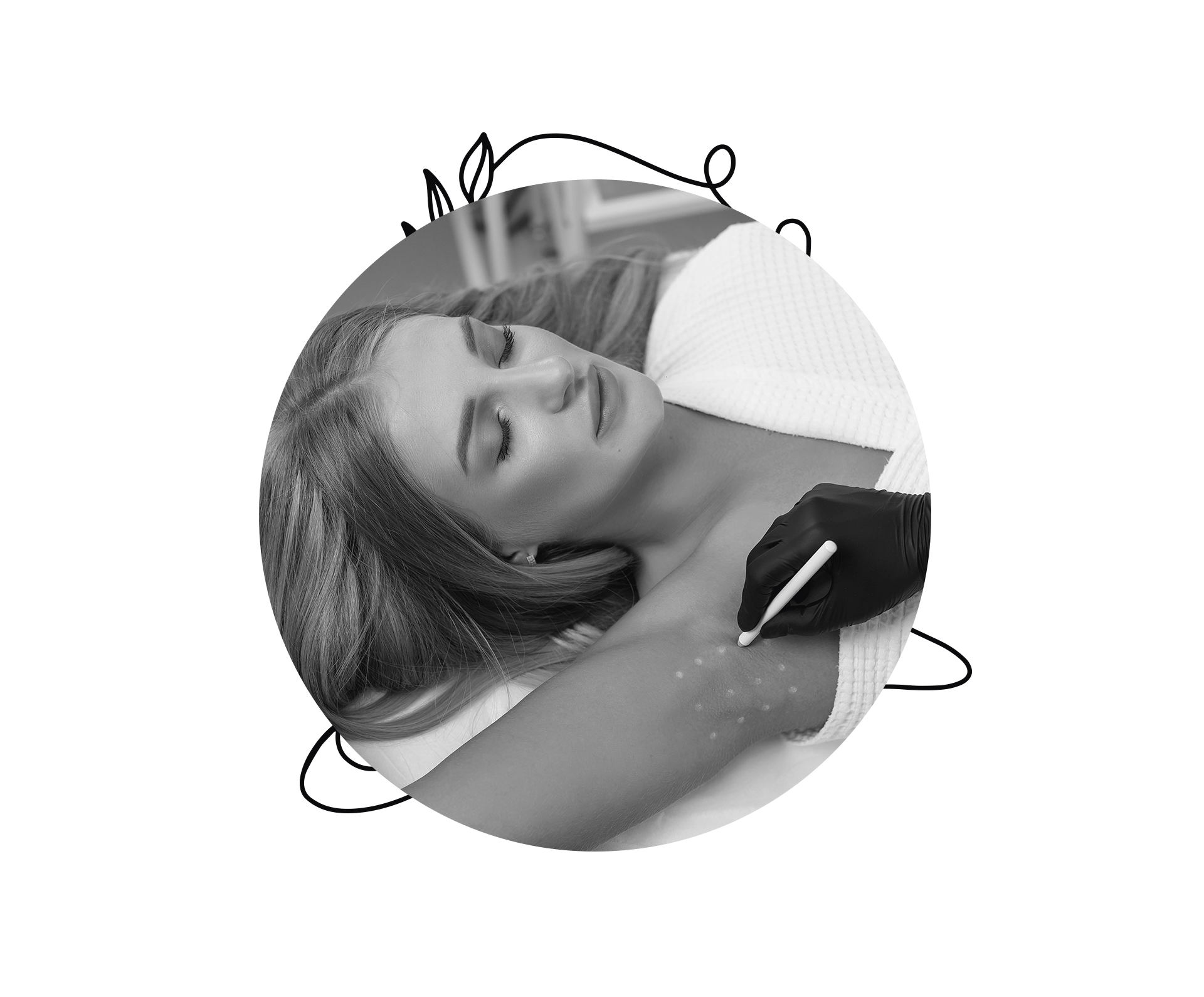 HOW LONG WILL IT LAST?
The more Botox injected the longer it will keep the area dry and stop the sweat glands. And generally, each session will keep the armpits and other parts of the body dry for about 6 months, depending on the individual's specific biology.
SIDE EFFECTS AND DOWNTIME
There is 0 downtime associated with this procedure, patients can resume daily activities almost immediately.
However, there may be a few side effects that can occur in extremely rare cases.
Muscle weakness or tiredness
Blurred vision, lasting a few minutes or hours.
Allergic reactions
Trouble swallowing
If these, or any other side effects persist for more than a few hours please contact us immediately as an examination may be in order. Generally, these are rare and quite mild.
If you suffer from hyperhidrosis and have tried a number of other treatments including topical creams and other things, give us a call today and find out if Botox can help alleviate your overactive sweating or Hyperhidrosis.